A&S through Robinia Pseudoacacia (Black Locust)
As WholeTrees approaches its 10th anniversary in 2017, we are reminiscing from various angles. For instance, a study of our company history and growth through our use of Black Locust, a species of tree precious to our team and product line. Robinia Pseudoacacia is beloved for its super hero material properties (rot resistance up to 75 years; dense fibers both strong and brittle, and a tap root so deep it attracts lightening away from neighboring buildings!); and bemoaned for its villainous invasive nature, spreading via its root system across North America and disrupting native ecosystems.
Black Locust is native to the Eastern U.S., but now grows through out the lower 48, and is considered invasive in New England, the Upper Midwest, and in the Western U.S.  
Since our founding, WholeTrees has been utilizing Black Locust as an exterior structural timber for its remarkable rot-resistance.  (General Technical Reports at the USDA Forest Products Lab here in Madison, WI document black locust fence posts lasting up to 75 years in the ground).  We have partnered with the Army Corps of Engineers as well as the DNR to cull invaded river lands and bring this "waste-timber" to projects across the country.  By clearing the canopy of invasive shade cover, WholeTrees assists in the slow process of restoring native species and habitats.
A timeline -- and a celebration-- of Black Locust forest cullings in WholeTrees applications
2008 Philadelphia Community Farm Greenhouse, Osceola, WI.  Rot resistant black locust served this program well, where greenhouse humidity fluctuates and condensation could corrode a less hardy timber.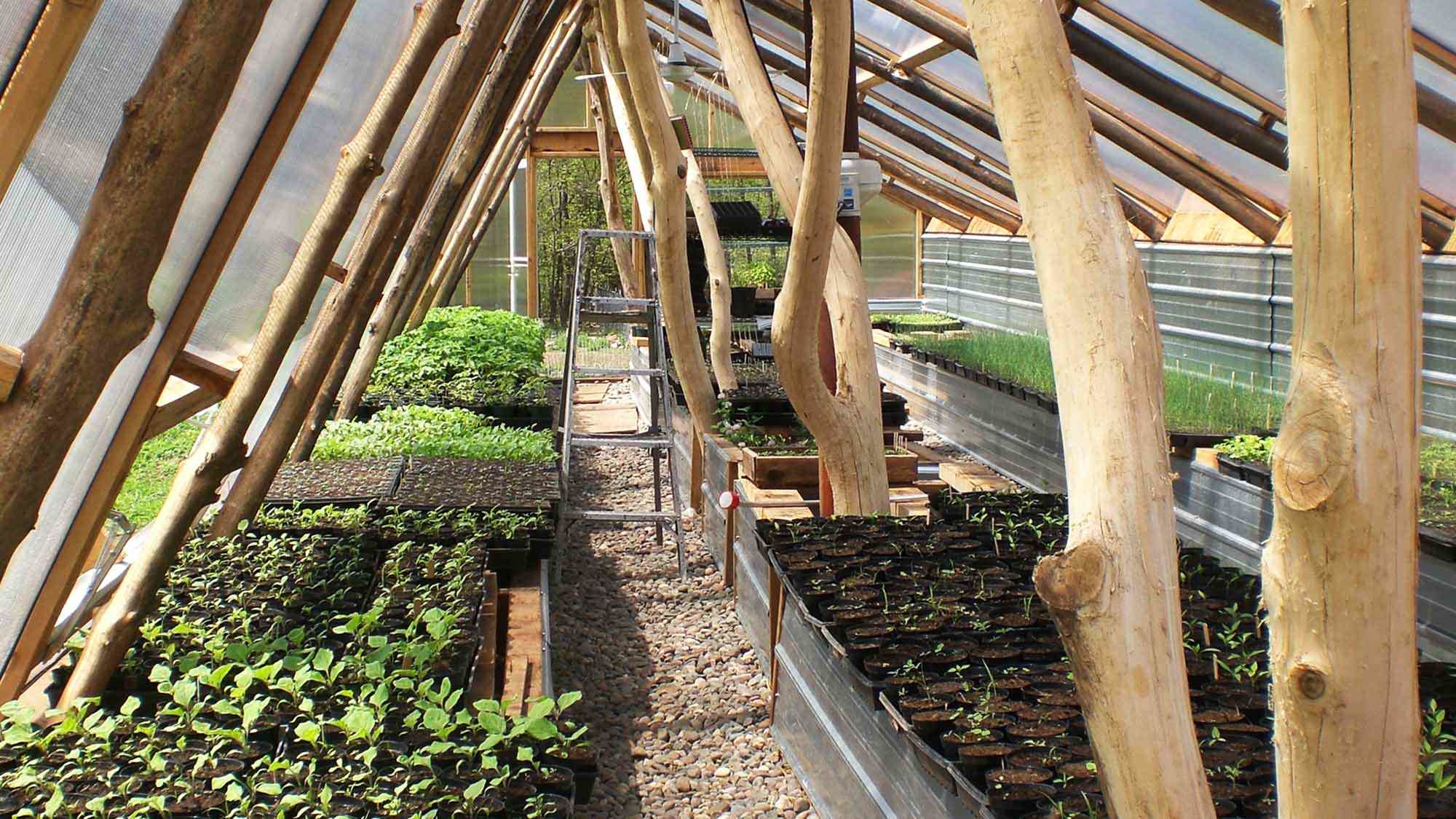 2009 Tussen Taak (A Thousand Thanks) Cottage, Potosi, WI. This exploration of a < 1000 s.f. passive solar kit-home boasted black locust in its port cochere.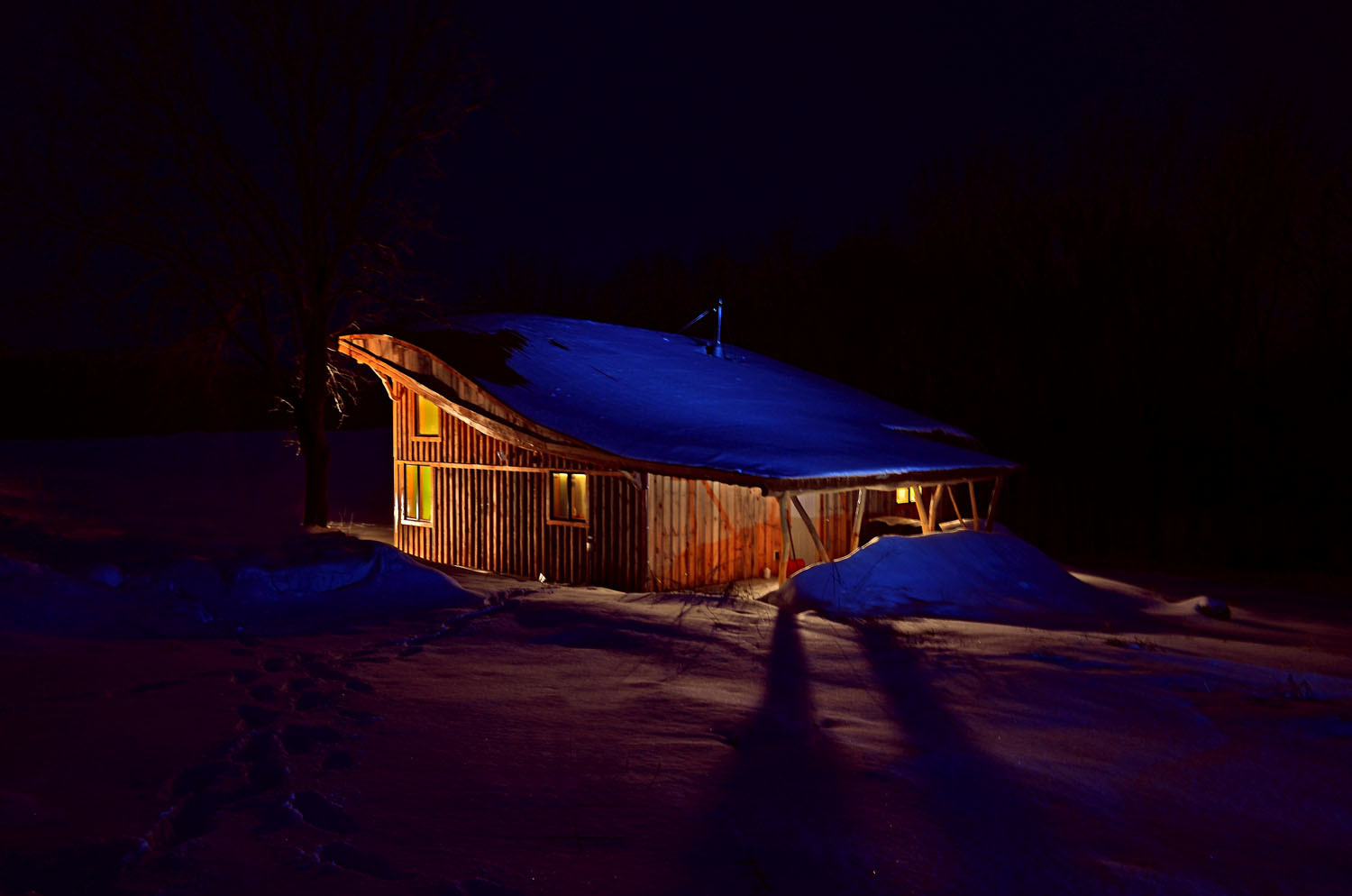 2010 The Myrick Hixon Eco Park Playscape, La Crosse, WI. Our first foray into natural play-scapes, the "Forest Scramble" inspired WholeTrees to get certified in ASTM Playground Standards, and introduced us to a burgeoning trend nationally-- get children back outside! Black Locust remains today our play-scape species of choice.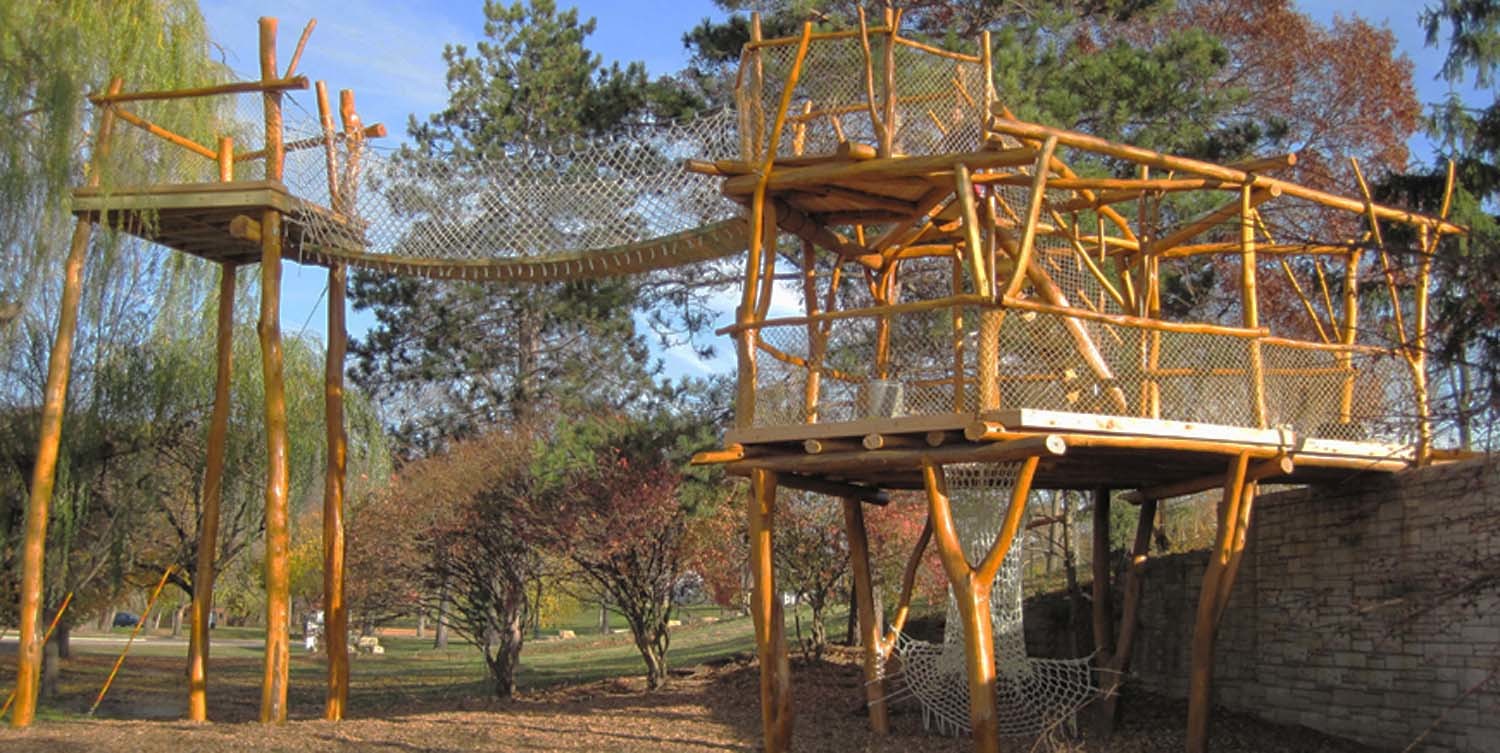 2011, 2012, 2013, 2014 Our portfolio was expanding, and new clients were inspiring us to innovate. Robinia dominated our exterior applications.
2011 La Crosse Residential Pergola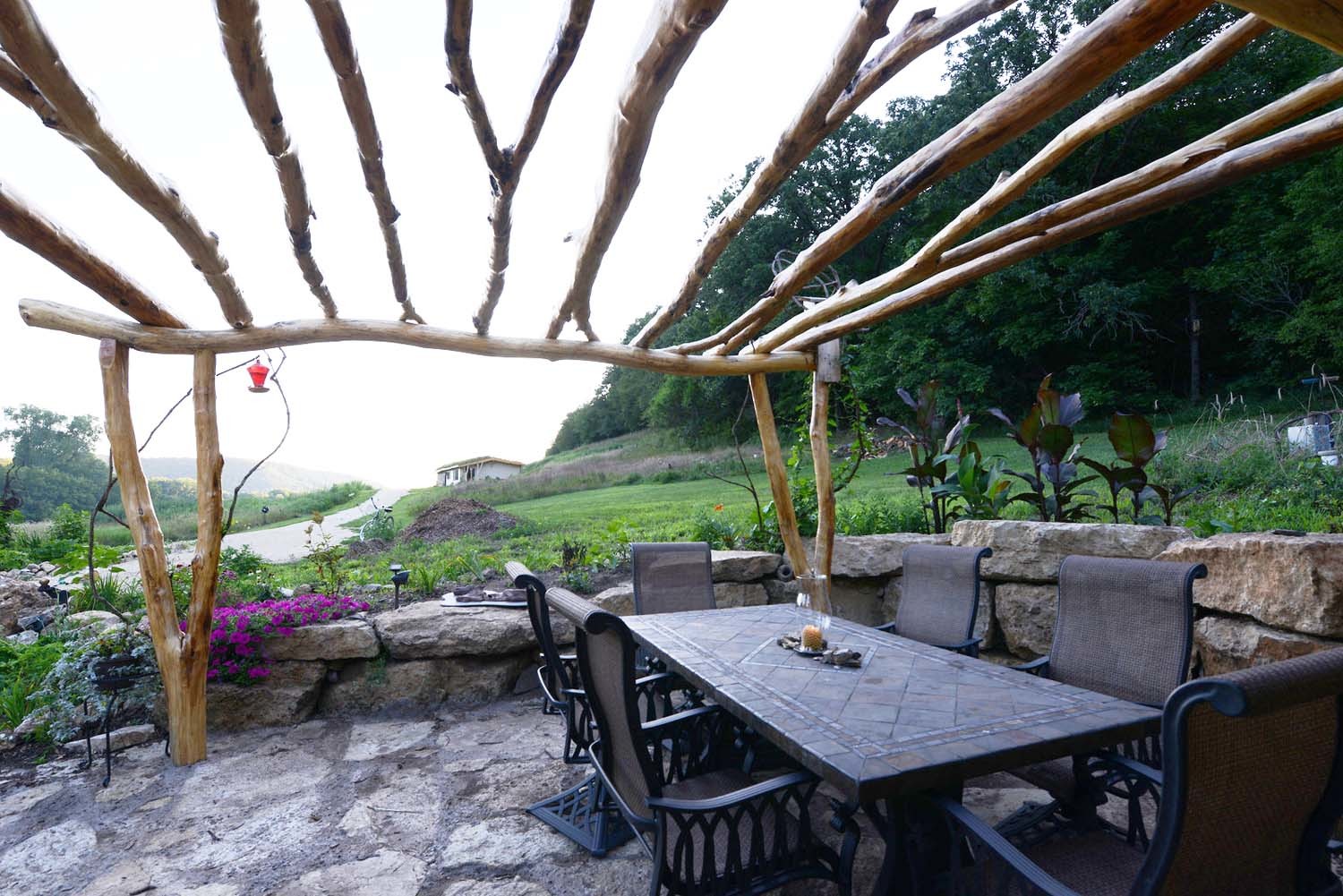 2012 Organic Valley Coop's Corporate Headquarters Pavillion, La Farge, WI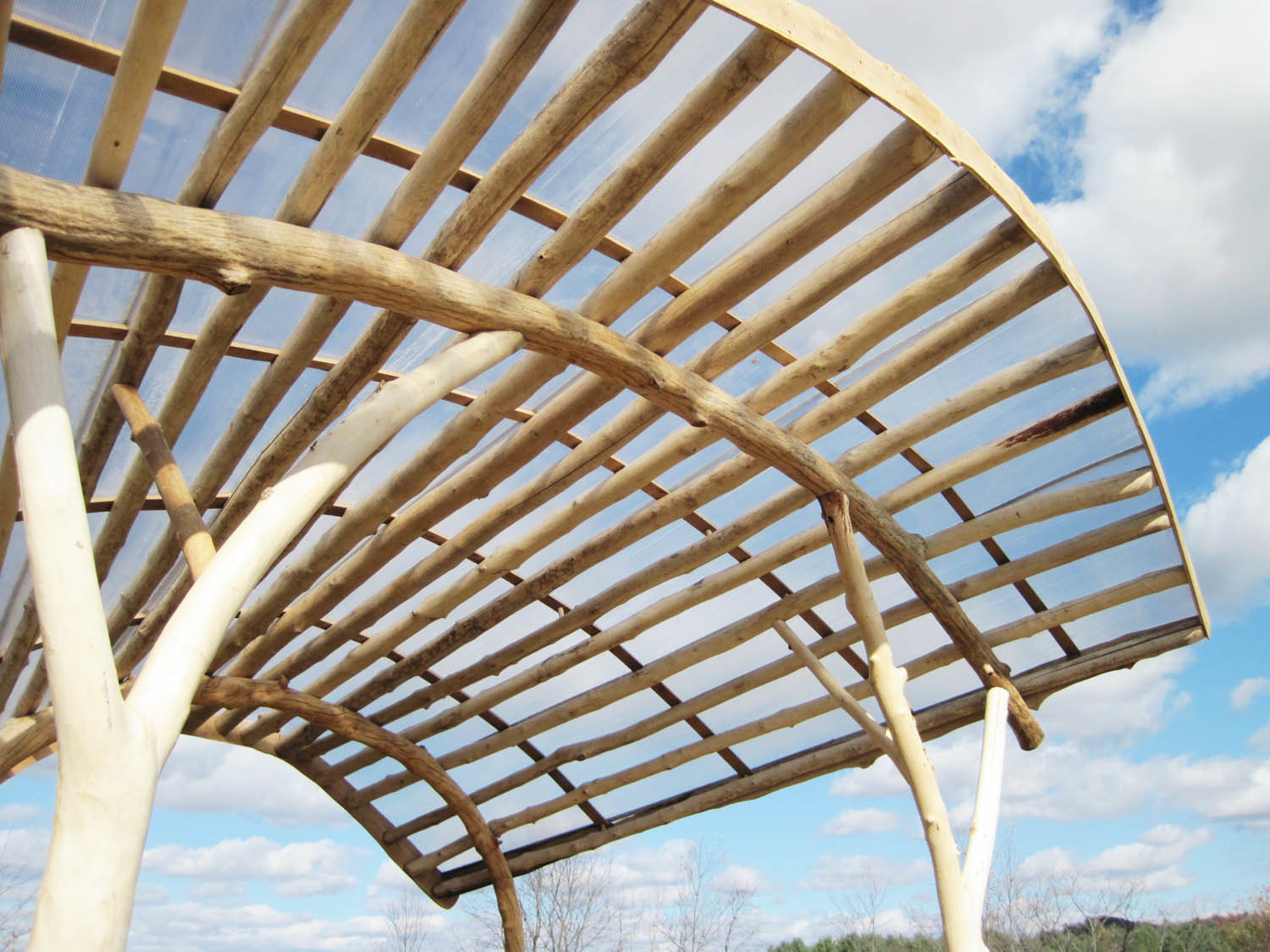 2013 Wildlife Habitat Bridge -- locally harvested Robinia, Lake and Porter County, IN.
2014 & 2015 Zoos begin to engage WholeTrees to assist them in weaving their mission of conservation into their choice of building materials. Minnesota Zoo's Hanifl Wild Woods Exhibit, Apple Valley, MN. (Architect: Damon Farber)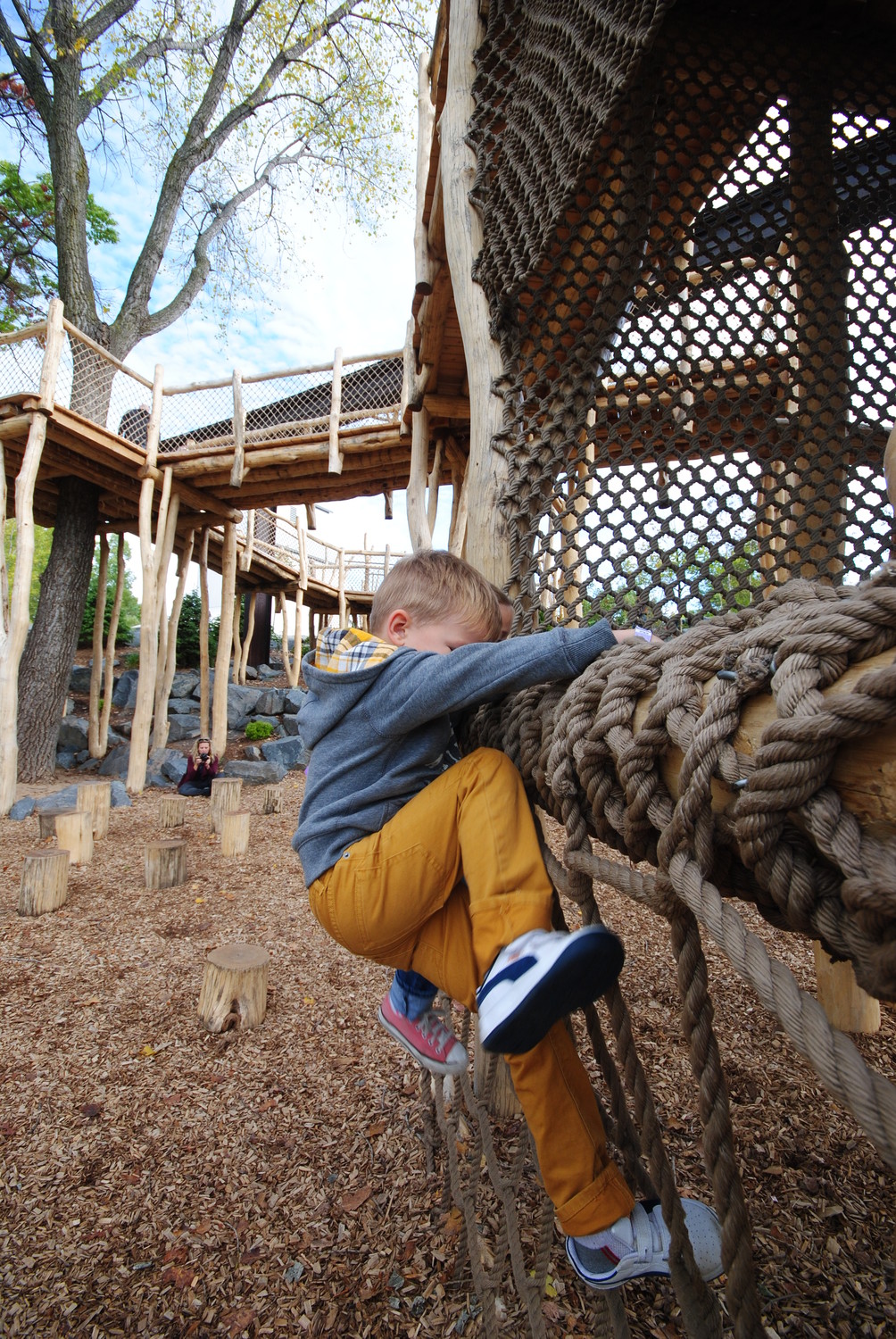 2016 This year, WholeTrees is humbled to have royalty pacing its Black Locust structures. The Cleveland Metro park Zoo, Cleveland, OH. (Architect: WDM)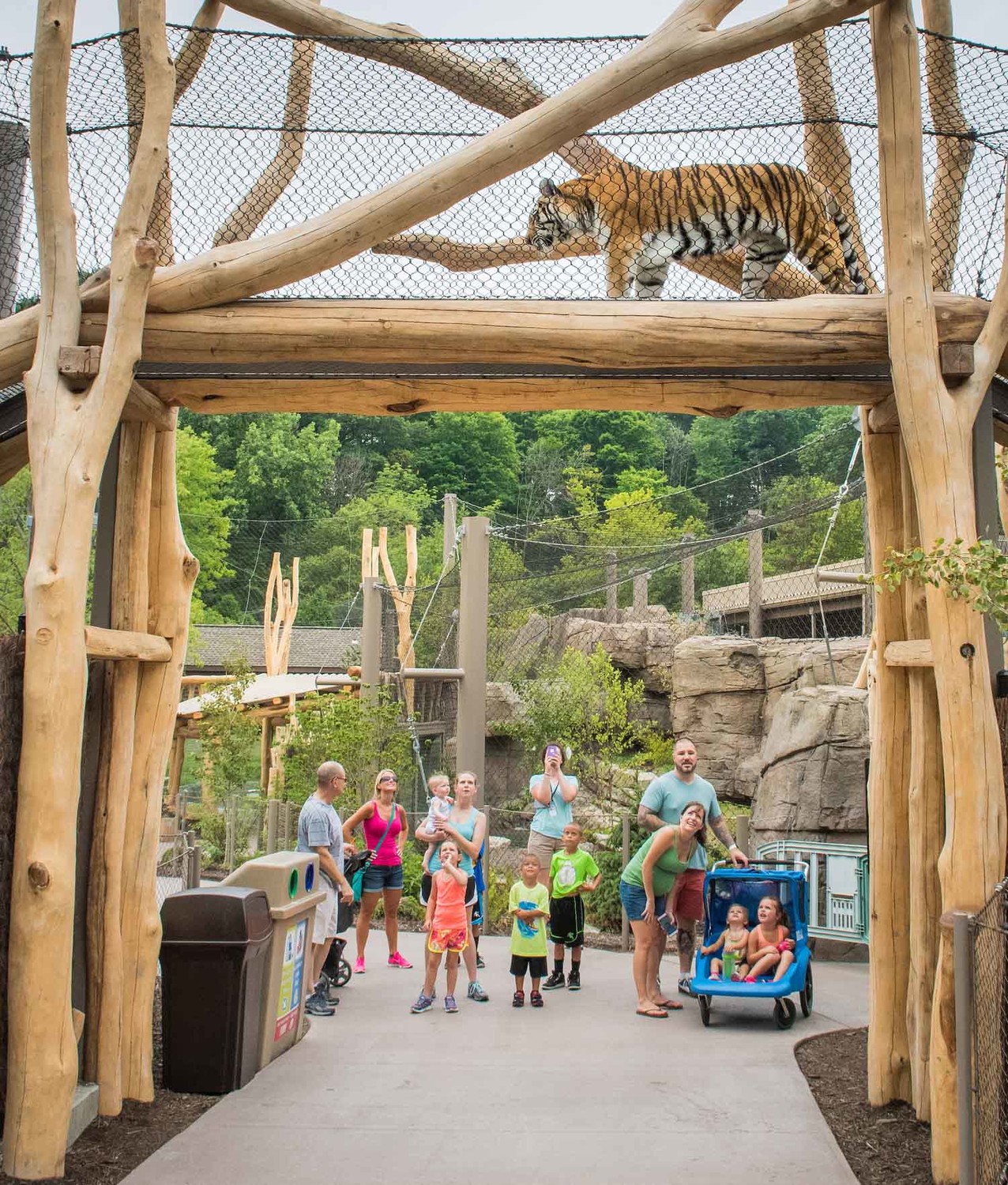 To all you lovers of Robinia Pseudoacacia, when next you are in Madison, WI, call our office and join us at the new Robinia Courtyard, just 3 blocks away. We can toast these historic innovations by our company with Robinia Pseudoacacia. We'd be delighted to raise a glass together with you and our dancing friends: